There are advantages to keeping the logistics of your webshop in your own hands. You always have an eye on your own products. You have your own collection point. And you can focus the logistics process entirely on your own webshop. But does taking care of your orders require so much time and money that you no longer get around to other important business? Then outsourcing of your webshop logistics to a reliable fulfilment partner is the perfect solution. You can grow. Expand. Invest in marketing and inventory instead of storage racks. More orders, different countries, more distribution channels. And you can lower your fixed costs. Make or Buy is specialised in the logistics of your webshop, also known as fulfilment. We take the entire logistics process off your hands, so that you can focus on your growth.
What is your reason for outsourcing?
Below you can see which advantages are experienced with the outsourcing of webshop logistics.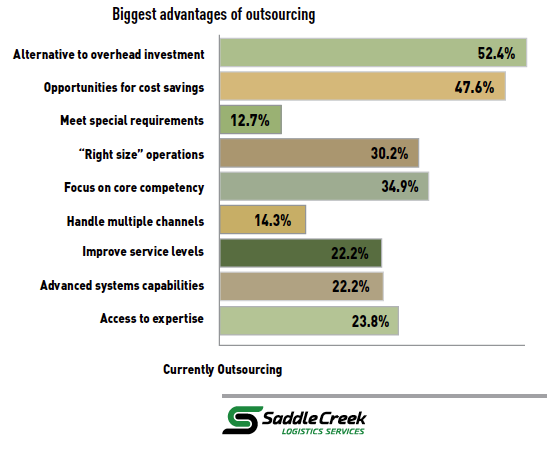 From "E-Fulfillment Trends Report". An international study by Saddle Creek Logistics Services, 2012.
Possibilities
Since 2004, Make or Buy has been a specialist in the storage, processing and distribution of goods. But that's not all. Also custom work such as assembly, (re)packaging and labelling of your products is possible. Multi-channel deliveries, assembled parcels or an adjusted distribution process. It's not a strange request for us. With our experience in webshop logistics, we always try to help you as efficiently, effectively and economically as possible. So that you can fully focus on your webshop, your products and your marketing.
Flexible
No single business is and works the same. That's why we are always ready to sit down with you and discuss your wishes and ideas. Flexibility is one of our core values.