Gecko Covers scores with one partner for all its distribution channels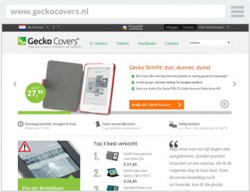 Gecko Covers began in 2010 with one small webshop of protective covers for e-readers and tablets. Within two years, the company had grown into a business that served multiple domestic and foreign distribution channels.
Make or Buy provides the complete logistics, from parcel shipments to pallets. Founder Luke Klein Nijenhuis: "We no longer have to worry about the logistics."
Gecko Covers designs and sells unique, handy and handmade protective covers for e-readers and tablets. The company sells around a hundred thousand pieces annually to customers worldwide. Gecko's products are not only sold via the Gecko Covers webshop – in four languages – but also via Amazon.com. In addition, they are on display in hundreds of shops at home and abroad.
Since 2011, Make or Buy has provided the complete logistics, including the deliveries to retailers and Amazon.com. "I did everything myself, including packaging and shipping products, until someone put me in touch with Make or Buy. Since then we have grown explosively. In 2012, the numbers quadrupled and in 2013 we grew another thirty percent," explains founder Luke Klein Nijenhuis.
Scale quickly
The growth was not possible without outsourcing the logistics, claims Klein Nijenhuis. "Thanks to the partnership with Make or Buy, I have much more time to work on relationships with retailers. Moreover, outsourcing makes it possible to scale up quickly when we bring in big clients. The logistics are in good hands; we no longer have to worry about that."
But outsourcing has led to Gecko having to increase the prices of its covers. "When I was doing everything myself, I didn't include the cost of my own time. After I joined forces with Make or Buy, I had to include those costs to maintain my margin. But that does not mean that outsourcing is expensive. If I look at my current hourly rate, it absolutely no longer pays to set up and run a logistics operation myself. My time has become too valuable," according to Klein Nijenhuis.
From parcels to pallets
The success of Gecko Covers has led to a large and complex operation. From the warehouse in Den Bosch, Make or Buy provides both the business-to-consumer (B2C) and the business-to-business (B2B) distributions. The B2C shipments mainly comprise mailbox pieces and parcels with one or two products. With the B2B shipments, it's exclusively about parcels and pallets. Moreover, each retailer has its own requirements for the shipments. Think here of repackaging of products.
The operation is most extensive for Amazon.com. All items must be delivered in perfect condition and completely prepared. That means, for example, that the employees of Make or Buy must place a special barcode label at a previously determined position on every item. "In addition, the numbers must match exactly to prevent that a shipment is rejected. Make or Buy has built in extra checks for this, whereby the number of mistakes is minimal," observes Klein Nijhenhuis.
Peaks without delivery problems
Another complicating factor is the seasonal peaks. Gecko not only has a peak in December but also in the summer. "That means that we must let them know on time what we think we will receive for orders, so that Make or Buy can anticipate and employ extra personnel as needed. But that doesn't give any delivery problems. To the opposite, the last December peak went exceptionally well," relates Klein Nijenhuis.
Outsourcing provides advantages, especially regarding seasonal peaks. "I don't have to worry in the low season that staff don't have anything to do. Make or Buy, on the other hand, can likely fill the dip in the order pattern with a peak from other clients," according to Klein Nijenhuis.
Concentrate on growth
The partnership with Make or Buy fits with the philosophy of Klein Nijenhuis to outsource as many activities as possible, even in other areas. "That leaves us able to keep the team small and the overhead low. Because we outsource so much, we are able to concentrate on the growth of our company."
Because growth is what Gecko wants. "We can still grow more by adding new products to our collection or retaining more retailers. We are now very busy with attracting new people to bring in new retailers," according to Klein Nijenhuis, who has every confidence that Make or Buy can facilitate that growth. "They're nowhere near their maximum."
Helping think of solutions
In the future, the partnership between Gecko and Make or Buy will become even more intensive. Gecko is considering stationing someone at Make or Buy one day every two weeks for product inspection. "Sometimes it's difficult that we are in Amsterdam, far away from our products that are stored in Den Bosch. That is the other side of outsourcing, but in this way we hope to bring about some change."
Klein Nijenhuis praises the readiness of Make or Buy to think with them about these types of solutions. "Other fulfilment parties often have their processes and rates set beforehand. At Make or Buy it is different and every discussion begins with a blank page. That works very pleasantly."
Visit the webshop:
www.geckocovers.nl