Voetbalshirtskoning.nl grows super-fast after outsourcing fulfilment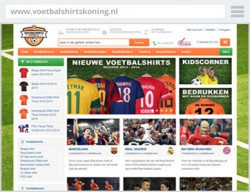 Within six months of outsourcing the order processing, the number of orders of Voetbalshirtskoning.nl has grown by fifty percent. Especially the football shirts printed by Make or Buy are popular. Founder Frank Egberts would like to continue growing by offering drop shipping, among other services. "That is a very interesting way to increase our sales. Make or Buy offers plenty of support for this."
A replica football shirt from your favourite football club with your own name and shirt number on the back. That is the success formula of Voetbalshirtskoning.nl, the webshop of Frank Egberts. "More than 35 percent of the customers that order a shirt also have it printed," says the Amsterdam resident, who began his business in April 2012 – while he was still studying.
The customers are drawn mainly to the attractive prices of Voetbalshirtskoning.nl. "The official competition clothing of clubs like Barcelona and Real Madrid is extremely pricey. We sell good, nice fan shirts that are allowed on the market for a low price. That is attractive in these times.
No logistics specialist
More than a year after the start of his webshop, Egberts decided to transfer the order processing to Make or Buy. "Previously, we made use of drop shipping. We sent our orders immediately through to the supplier, who printed the shirts if desired and sent them directly to the customers. That went well for a long time, until the supplier stopped offering this service." Handling the order processing himself was not an option for Egberts. "First of all, I had no space to store the articles in inventory myself. Besides, I am more of a marketing specialist than a logistics specialist. And I know from experience that the packaging and shipping of articles takes a lot of time."
Printing shirts
Make or Buy was the second fulfilment specialist with whom Egberts spoke. "The company told me a good story, had a well organised warehouse and offered a good price. But the main factor was that Make or Buy was prepared to print shirts. Printing is an important service for my customers. The first fulfilment specialist that I talked to was not open to that."
The printing of shirts was new for both parties. "Together we looked for the most efficient way of working. We have invested in a printing press, which is serviced by the people of Make or Buy. A shirt is printed within ten minutes, and that time is getting even shorter. Currently we are looking at whether we can increase the printing options, for example type fonts. There is much demand for this type of personalisation service."
At your door within two days
"If you order before 14.00, then you have a shirt with printing in house on the following business day. Normal orders received before 21.00 means tomorrow in house, even for Belgium." Egberts is especially pleased with the speed of the order processing operation. For shirts to be printed, Voetbalshirtskoning.nl employs a delivery time of three days. "In the last busy December month, we had increased it to five days to be safe, but that ended up not being necessary. On the initiative of Make or Buy, all T-shirts are printed every day. So every shirt with printing was on the customer's doormat within two days. On top of that, we receive good reviews about the delivery and the state in which the products arrive."
Of course, even Make or Buy makes a mistake now and then, but this is always quickly and pleasantly corrected. "Once in a while a customer receives maybe two shirts instead of three, but then the missing shirt is always sent free without charging the costs to us. That's how it should be," Egberts believes.
Favourable rates
Egberts no longer thinks about organising the order processing himself. "Then you have to invest yourself in shelves, systems and people who print the shirts and package them. That is perhaps interesting for a large party like Zalando but not for Voetbalshirtskoning.nl. I pay only a fee for warehousing costs and a fee for each processed order and shipping costs. Make or Buy has favourable rates for that."
A great advantage of outsourcing to Make or Buy is the increased flexibility. "Our previous partner didn't keep much inventory, which often resulted in having to decline a large order," stated Egberts, who appreciates the information services. "We now have good insight into the inventories."
Support for drop shipping
Voetbalshirtskoning.nl has grown quickly since the outsourcing to Make or Buy. And if it's up to Egberts, that will not come to an end any time soon. "We want to expand our collection with scarves, hats and other products. Over the long term, we're considering printing even more products, for example caps or mugs. And it would be nice if we were ever allowed to sell the official competition outfits from brands such as Adidas and Nike."
Additionally, Egberts has now introduced the drop shipping concept himself. Five webshops currently sell the products of Voetbalshirtskoning.nl, that is also printed, packaged and shipped by Make or Buy. The number should grow quickly, if it's up to Egberts. "It is a very interesting way to increase sales. The webshops maintain close contact with regional football clubs that we don't have ourselves. Make or Buy offers plenty of support for this."
Launch of Stepbaas.nl under a new B.V.
"In February, I went live with the second shop, Stepbaas.nl." Since the beginning of this year, Voetbalshirtskoning and Stepbaas fall under Kingdo B.V. The umbrella name where more webshops will be added in the future, focused on a specific product group.
Long term partnership secured
Kingdo B.V. and Make or Buy Fulfilment B.V. have recently renewed their contract for several years. Both parties are very satisfied with the partnership and are happy to continue it.