No single business is and works the same. Your brand is unique and very important for you. It must project your uniqueness and satisfy your wishes in all its facets. Make or Buy would like to help you with that. Customised fulfilment is one of our core concepts. Flexibility, knowledge and the right contacts are key here.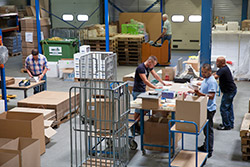 Assembly, (re)packaging and labelling
Your supplier does not deliver the proper combinations or packaging quantities. You have a sales promotion or a change in your product strategy. You want to use barcodes on your products. Call us and we will take over this time-intensive process from you. We assemble, (re)package, code or re-process your products. Our experience with clients such as Albert Heijn, Perry Sport, Teva and Crocs has provided us broad knowledge. The best contacts. Everything to take this work off your hands in the right manner.
Multi-channel delivery
B2B or B2C deliveries are daily work for us. Different units, bulk shipments, packing lists, various barcodes. Wishes that don't bother us in the least. From the specific needs of your product until the delivery by a DC. We arrange everything for you, according to the needs of your customer.
Assembled parcels
We are also adept at the preparation of Christmas boxes or other (holiday) boxes. We have experience with the preparation and distribution of tens of thousands of parcels, so we can help you get this job done with no stress or bother.
Adjusted distribution process
You would rather have something other than our blank recycled shipping containers and envelopes. You would like a different size. A print. A special insert. That's possible. Make or Buy has the right contacts for having boxes or envelopes economically printed, produced in customised sizes, or produced with a package insert.
Logistics support on location
Do you have a webshop? Then we can arrange all the logistics activities ourselves. In our warehouse in Den Bosch. Our Ceyenne WMS ensures a streamlined process.
You don't have a webshop but you are looking for a partner who can take over the logistics and work-intensive activities for you? Then the work activities can also be carried out at an external location. At your location, for example. Or in a temporary (rental) space near you.