You have a successful shop or webshop but you can't or no longer want to store your own products. You want to expand. And you want to lower your fixed costs. Make or Buy stores your inventory effectively and provides active management. The perfect fulfilment solution.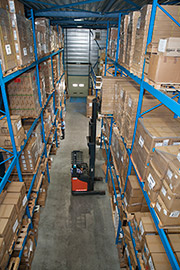 Your inventory in safe hands
From the first moment that your goods arrive, we treat them as our own. Your goods are stored safely and securely in our warehouse and entered into our advanced warehouse management system. You receive access to this inventory management system and thus always have real-time insight into your inventory situation.
What this specifically means for you:
Careful storage of goods
Counting of the goods received
(Re)packaging of goods if needed
Inspection for mistakes in the delivery
Processing in our advanced and efficient WMS, with an extensive and user-friendly portal for you with many functionalities
Real-time insight into your inventory situation based on detailed overviews
Your products stored safely and securely
Scale-up possibilities for unlimited growth
Custom work for the storage of goods
Now and then you have work such as assembly, (re)packaging or labelling of products. Often a project that requires a lot of work and time. Requiring special equipment and packaging materials. Take advantage of our experience. Just one phone call to Make or Buy is sufficient. And we take care of everything according to your needs.