Efficiency while maintaining logistics flexibility. That's what it's all about. Through years of experience with fulfilment for shops and webshop owners, Make or Buy ensures that your order processing occurs as effectively as possible. Your products are in good hands with us.
Automated order processing
We use our own efficiently designed warehouse management system, both for our order picking with the latest scanning equipment and also for all your management information and inventory administration. You manage your order stream from your own webshop, with your own ERP. Or you use our specially designed online portal where you – and/or your customer service – can find and manage all the information you need in real time. Information about the order status, order adjustments, manual input and history. But also an extensive module for your inventory management.
View all the functions and read more about our warehouse management system.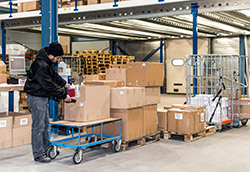 Cost savings through efficiency
In the design of our warehouse, we naturally have tried to take up as little space as possible. That saves you money. With us, you only pay for the actual storage locations used, both for pick locations and for bulk storage. So if you only have small products, warehousing costs are much less.
In certain cases and if your products have a barcode (we can do this for you), we can also house multiple products at one location. That immediately saves you warehousing costs. By using our WMS, the error margin remains minimal. We would be happy to inform you whether this is possible with your products.
Customised order processing
For specific B2B deliveries, such as bulk deliveries, your products must be packaged in other units. With pack lists per box and different barcodes. Because of our years of experience with deliveries to e-tailers such as Amazon, Bol.com, Wehkamp, Decathlon and CoolBlue, we are able to arrange everything for you according to the needs of your B2B client. Please see here for more information.